Regular price
Sale price
$14.95
Unit price
per
Shop Online
Ready to shop?
Choose a new phone!
Pick your new phone and plan.
Choose your add-ons!
Don't forget the accessories and warranty options.
Checkout!
Checkout, choose either pickup in-store or have it shipped to you and we will handle the rest! You will also receive a call from our team to confirm and finalize your order.
Pricing Options
Plus Pricing
With Plus Pricing, choose ANY device from $0 upfront on a 2 year term and pay off the device cost over 24 months.
Payments will be charged monthly on your SaskTel wireless bill.
Fast Forward Pricing
Fast Forward is a new way to buy so you can always get the latest and greatest phone - and it's only from SaskTel!
How it works
Get a discount on the regular 2-year voice & data price
Pay a small monthly participation fee
Return your phone within the return period—we'll send you a text reminder** Upgrade after a year without paying your early upgrade balance
**If you fail to return the phone, or it's not in good working condition, you'll be charged a payback amount.
Need help?
Our Wireless Team is ready to answer all your questions!
View full details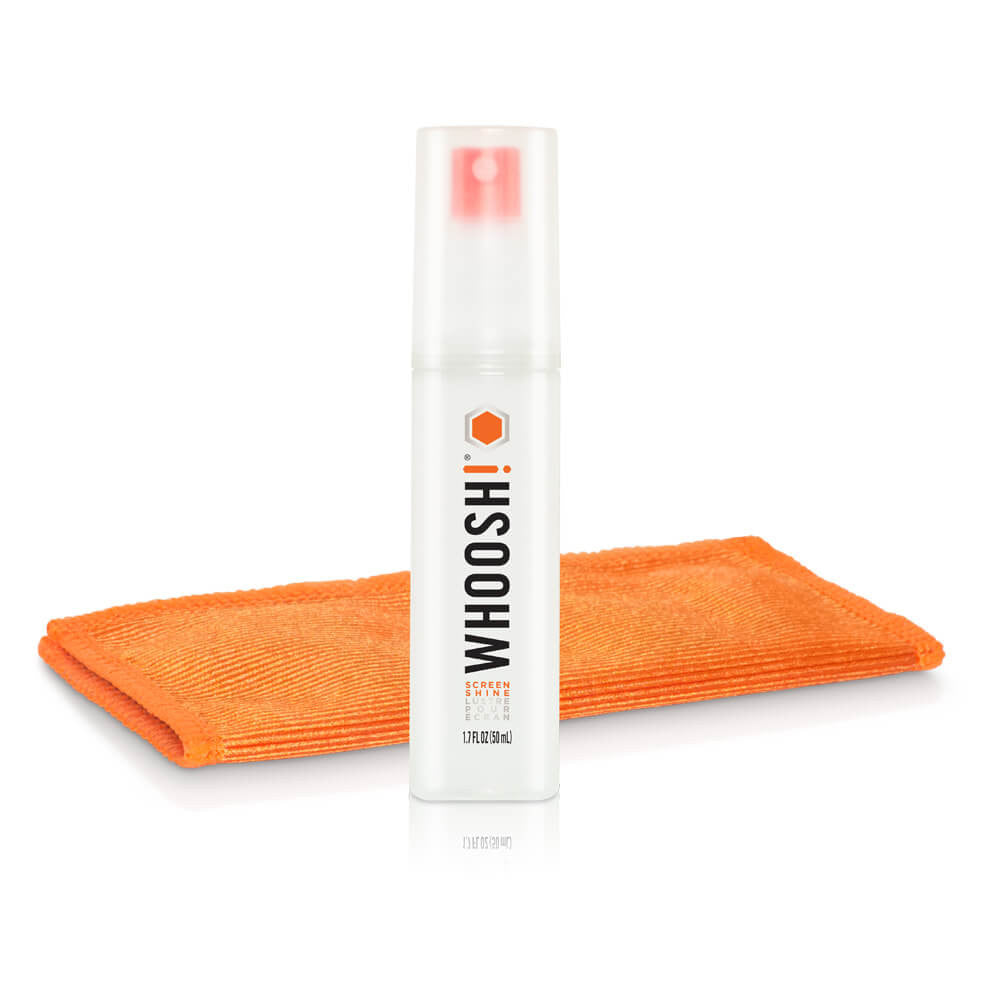 Make your devices shine like new again with WHOOSH! Screen Shine – The powerful and natural cleaner that's safe for all screens and for you. The WHOOSH! 50 ml Screen Shine® will remove fingerprints, smudges, dirt and unwanted germs while it is 100% non-toxic. It's alcohol and ammonia free so it will not damage your device or remove any coatings manufacturers put onto screens and it's safe for family use with no harmful residue left behind to worry about. Use WHOOSH! together with the included W! Microfiber cloth as it's treated with PROTX2® antimicrobial protection. A technology that's also used in hospitals, which allows the cloth to stay clean for longer by helping to eliminate the growth of microbes, germs and bacteria.
• Guaranteed to be safe for ALL screens
• WHOOSH! proprietary formula removes fingerprints, dirt, smudges, make-up and skin oils
• Leaves a nano-thin, anti-static, invisible coating that protects the screen against dust, dirt, smudges and fingerprints
• Certified 100% non-toxic, alcohol and ammonia free
• Safe for family and child use with no harmful residue left behind
• Ingredients reviewed by NSF International (National Sanitation Foundation)*
• Includes a microfiber cloth treated with PROTX2® antimicrobial technology
• Portable size to keep in your purse, backpack or laptop bag
• Re-usable and recyclable packaging



Description

Make your devices shine like new again with WHOOSH! Screen Shine – The powerful and natural cleaner that's safe for all screens and for you. The WHOOSH! 50 ml Screen Shine® will remove fingerprints, smudges, dirt and unwanted germs while it is 100% non-toxic. It's alcohol and ammonia free so it will not damage your device or remove any coatings manufacturers put onto screens and it's safe for family use with no harmful residue left behind to worry about. Use WHOOSH! together with the included W! Microfiber cloth as it's treated with PROTX2® antimicrobial protection. A technology that's also used in hospitals, which allows the cloth to stay clean for longer by helping to eliminate the growth of microbes, germs and bacteria.




 

• Guaranteed to be safe for ALL screens
• WHOOSH! proprietary formula removes fingerprints, dirt, smudges, make-up and skin oils
• Leaves a nano-thin, anti-static, invisible coating that protects the screen against dust, dirt, smudges and fingerprints
• Certified 100% non-toxic, alcohol and ammonia free
• Safe for family and child use with no harmful residue left behind
• Ingredients reviewed by NSF International (National Sanitation Foundation)*
• Includes a microfiber cloth treated with PROTX2® antimicrobial technology
• Portable size to keep in your purse, backpack or laptop bag
• Re-usable and recyclable packaging